PrinterEagle's Georgia Southern Fansite
GSU Trivia
What former names has Georgia Southern University gone by?
1906-1924: First District A&M School
1924-1929: Georgia Normal School (began offering 2 year degrees)
1929-1939: South Georgia Teachers College (began offering 4 year degrees)
1939-1959: Georgia Teachers College
1959-1990: Georgia Southern College (began offering graduate level degrees)
July 1, 1990: Georgia Southern University
What ties to the state of Georgia exist on the Campus?
President Guy H. Wells (1926-1934) traveled around Georgia and brought "relics" back to the campus, including stones from Revolutionary & Civil War forts, which were included in walkways, fountains and other parts of campus. In addition, he brought acorn & sprigs from famous Georgia live oaks and other trees. Unfortunately, no records were kept to where any of these items were placed on campus. One can only assume that the mighty oaks in Sweetheart Circle came from such famous trees as the Lanier, Wesley or Oglethorpe Oak.
Also, Lake Wells (named for President Wells), and it's smaller companion, Lake Ruby (for his wife), when viewed from overhead form a rough outline of the State of Georgia.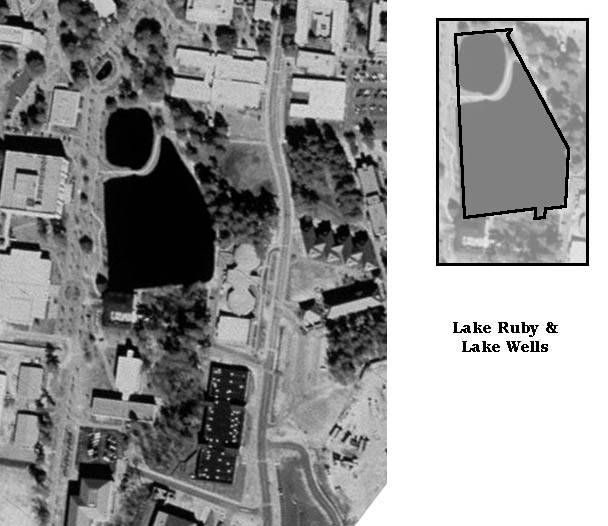 What former team names has the institution used?
Aggies, Blue Tide, Professors, & Eagles
Sporting Events of Note:
On April 4, 1935, the men's baseball team played in Savannah against the Boston Braves.
On October 1, 1937, the football team played in the inaugural game for Miami in the Orange Bowl.
Georgia Southern in the Movies:
In the 1995 movie, "Home for the Holidays" Charles Durning's character goes into the other room to watch a football game on TV, and Holly Hunter's character follows. The game he turns on is the 1990 NCAA I-AA National Championship, with Georgia Southern's opening drive just beginning.
Click below for screen captures.
Movies actually filmed in Statesboro (atleast in part):
"Buster and Billie" (1974)
"The Greatest Gift" (1974 TV)